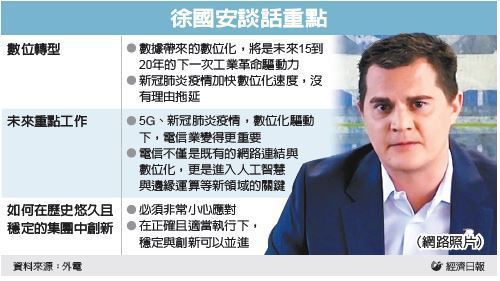 The pandemic impacted the global economy which turns to a new normal to be adapted to. FEG Chairman Douglas Hsu's son, the chief innovation officer Jeff Hsu expressed that he would like to assist FEG to adapt to the new normal and try to overcome the problems that new normal brings.
He mentioned, telecom business in the future is going to be more important as the telecom is the key to the new industry. He will promote digital transformation in the Group as the operations for the past 70 years which may not function properly for the next 70 years. The transformation will help FEG to extend another 70 years.
Bloomberg interviewed Jeff Hsu yesterday, the public sees him as the successor of the Chairman, he said, no matter who I am, the thing is to make contribution to the Group. "Any position is not given to me for free, but earned by myself." He talked about driving innovation in the Group, using design procedure to solve difficult problems and find the solution.
Before coming back to Taiwan, Jeff had a "non-traditional life. " He is the only one as a solider serving country and take battles in US among those "business next generations. " But this multi-dimensional experiences gave him courage and different means to face the challenge. He said, promoting digital transformation in the business is not an easy task but definitely a meaningful and valuable challenge. He shows his soldier spirit, "I will be wherever the Group asks me to be. "
Jeff said the era of digital transformation has come, it is the time to drive the next industrial revolution for the next 15-20 years. The Group should take the path of it without any excuses for any delay.
Some of the subsidiaries in FEG may be older than Jeff Hsu. In this relatively conservative Group, How does Jeff lead innovation? Jeff answered that a proper flow design incorporating with business practice to lower the risk. He doesn't think the stability and innovation are two separate things and with proper execution, they can work hand in hand.
Jeff pointed out that 5G, telecom business is going to be more important in the future, not just because of connection and digitization, telecom is the key to the new industries e.g. AI, or edge computing.
He also pointed out that he is going to build a new digital fleet management platform for shipping business. Due to the global warming and climate change, the marine environment is getting more dangerous. He will use data and AI technology to increase the awareness to the change of the environment, to lower the fuel cost and improve the overall safety and operation of the fleet.