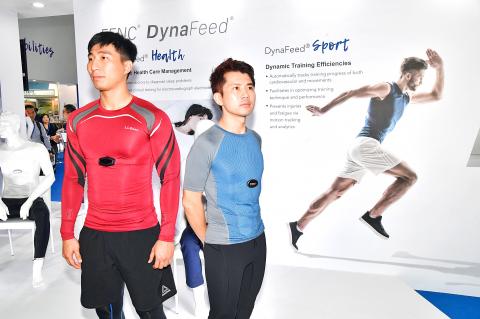 Far Eastern New Century Corp (FENC, 遠東新世紀) yesterday signed a memorandum of understanding (MOU) with a Swiss-based health service provider to commercialize its smartwear technology. The Taiwanese textile maker has been making an effort to promote smartwear technologies in the domestic market, alongside its local peers Tex-ray Industrial Co Ltd (南緯實業) and Formosa Taffeta Co (福懋興業).
However, FENC is the first to secure a partnership with a foreign brand to offer smartwear solutions.
FENC said the MOU would help accelerate the commercialization of its latest DynaFeed solutions, which combine advanced biosensors and ultra-thin conductive carbon nanotube polymer film to collect real-time biosignals.
Sion, Switzerland-based Valmed SA offers electrotherapy products for non-invasive electrical nerve and muscle stimulation.
"We have been working on the DynaFeed project since 2015 and are ready to mass produce these products for our global brand customers," Jeffrey Hsu (許嘉夫), a manager at FENC's research and development center, told reporters at the Taipei Innovative Textile Application Show, which opened yesterday at the Taipei Nangang Exhibition Center, Hall 1.
He did not provide a detailed timetable.
FENC yesterday also inked an MOU with Freeport, Maine-based US outdoor apparel company LL Bean Inc to develop a line of smart clothing for athletes.
DynaFeed creates an on-body platform upon which diverse devices and applications can work together to improve athletic performance, FENC said.
The company said it is also in talks with several global brands about its smartwear solutions. It expects revenue contribution from smartwear solutions to increase over the coming years.
Asked about the company's strategy to differentiate itself from its competitors, Hsu said that FENC aims to develop smart clothing with a focus on functionality and comfortableness instead of smart wearable devices.
"As a textile maker, we have a totally different mindset, compared with those who are in the electronics industry," Hsu told the Taipei Times.
The firm's products have longer wash cycles and higher resistance to chemical oxidizers than those of its competitors, he said.
Hsu said that FENC is also planning to tap into the growing sleep-testing services market with its smartwear technologies through cooperation with hospitals and telecom providers to help physicians and other healthcare professionals monitor patients' sleep quality.
The Taipei Innovative Textile Application Show runs through tomorrow.