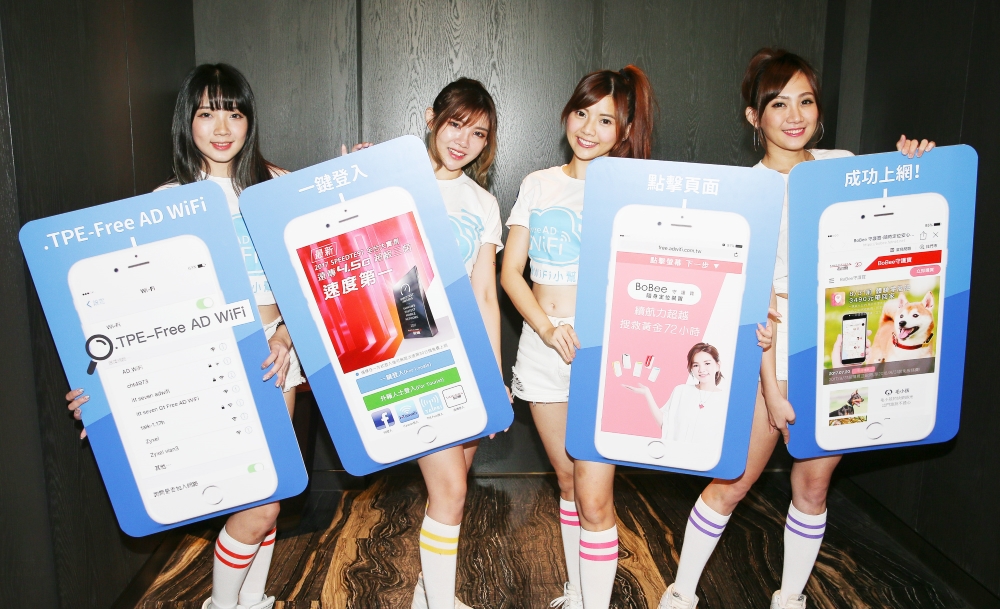 The Taipei Metro will extend its free public Wi-Fi coverage from stations to carriages, starting with the Red Line (Tamsui) and Blue Line (Bannan) by the middle of this month (August) and the rest by the end of the year, Taipei Rapid Transit Corp (TRTC, 台北捷運) and service provider Free AD WiFi (全林實業) officials announced yesterday.
The officials said at the news conference that the TPE-Free Ad WiFi connections will be available in 30-minute sessions without a sign in or verification required, however use will need to click on an advertisement for each installment. The companies said that the the number of 30-minute sessions will be unlimited.
Free Ad WIFI (全林實業股份有限公司) is a private company that will be replacing the current government-run Taipei Free Wi-Fi hotspots at MRT stations, which currently require user login and verification.
The new TPE-Free Ad WiFi free network will be available at 117 stations and 1,147 cars of the Red and Blue lines.
The new Wi-Fi platform will employ 4.5 G (generation) wireless mobile telecommunications technology from Far EasTone Telecommunications Co. (遠傳).
The old Taipei Free network did not limit users to bandwidth usage, some users could drag down performance for other users. Trains covered under the new network will over internet connections of 70 megabits per second (Mbps), enough for about 100 people in each car. As for bandwidth limits, each user will be allocated an upload speed of 3Mbps and a download speed of 1Mbps per second.
For more information on accessing the TPE-Free Ad Wifi network, check the websites and contact phone numbers listed below: