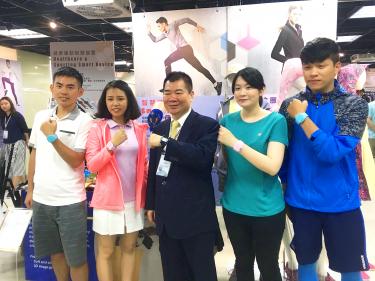 Garment and fabrics manufacturer Everest Textile Co (宏遠興業) yesterday unveiled two smartwatch models in Taipei as part of its efforts to expand its reach into the smart wearables market. Using the latest sensor technologies and cloud-based storage solutions, the devices can track vital signs, including heartbeat and blood pressure, Everest Textile said.
Photo: Everest Textile Co president Roger Yeh, center, and models pose wearing new smartwatches at a product launch in Taipei yesterday.
Photo: Chen Jou-chen, Taipei Times
"We also have smart pajamas in the research and development stage," president Roger Yeh (葉清來) said at a conference in Taipei on functional fabric. The Tainan-based company also unveiled a capacity expansion plan. To meet increasing customer demand, Everest Textile's new plant in the US is to start operations in the third quarter, with an expected monthly capacity of nearly 2 million meters, Yeh said.Everest counts major global brands such as Nike Inc, North Face Inc and Columbia Sportswear among its top clients, company data showed.
Everest's local peers, Makalot Industrial Co (聚陽實業) and Tex-ray Industrial Co Ltd (南緯實業), are also aiming to grab opportunities in the rapidly expanding smart clothing market. Makalot is manufacturing smart clothing products for European customers this quarter, a company investor relations official said. "These collections might not contribute a significant amount of revenue in the near term, but we are confident about the long-term potential in the sector," he said, citing higher added value. Tex-ray, which makes apparel for global fashion brands, has been selling smartwear products under its self-owned brand AiQ on e-commerce platforms since the fourth quarter of last year. The company this year secured a NT$1.4 billion (US$46.4 million) syndicated loan from nine domestic banks to improve its working capital to develop smart clothing.